What We Do
ECLAIR is a company specializing in the field of electrical cabinet study, design, and wiring, as well as automation and energy management.
ECLAIR is an LLC company with a capital of 300,000 DT, established in January 1999.
ECLAIR provides you with a team of qualified executives and technicians to study and execute your projects and wiring according to the highest standards and with the utmost respect for current regulations, knowing that after-sales service is guaranteed.
ECLAIR remains the company that seeks to improve its production and performance in line with the development and progression of the electrical sector worldwide.
ECLAIR  is a KNX partner .
ECLAIR is ISO 9 9001 V2015 certified.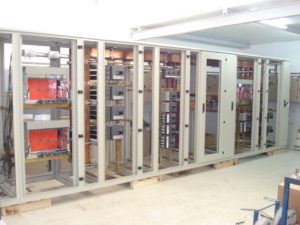 Our Services
1. STUDY
During the study phase, there are two possibilities:
You provide precise single-line or multi-line diagrams that we use for the realization of your cabinets.
We offer you a project study based on your specifications, single-line or multi-line diagrams, your ideas, and your needs.
In the end, we provide you with a technical dossier to use in designing your project.
2.CONNECTION AND COMMISSIONING
As an option after providing a quote, you can leave to our responsibility:
Connection of power and control cables
Commissioning
3. AFTER-SALES SERVICE
After delivery, we provide you with a team of technicians to carry out on-site modifications and extensions you request in a timely manner.
Our Services








MORE ABOUT US
The company ECLAIR has a production site with a total area of 1000m².
An administration and a design office occupy 165m².
A workshop occupies 600m².
A store occupies 200m².
A cafeteria occupies 35m².
In this site, a team of executives and technicians carries out the study, design, wiring of any electrical panel tailored to the needs of its customers, as well as automation, maintenance, and energy management.
The company ECLAIR offers its customers the opportunity to carry out these projects according to international conventions and guarantees them good after-sales service.